Say Hello, Wave Goodbye at 40
"…to keep you secret, has been hell…"
2022 sees Soft Cell classic 'Say Hello, Wave Goodbye' celebrating its 40th Anniversary. The evocative synth-pop number has carved its place as one of the most memorable tunes of the era and helped to elevate Soft Cell's profile beyond the image of previous hit 'Tainted Love'.
Originally featured on the album Non-Stop Erotic Cabaret, 'Say Hello, Wave Goodbye' was released as a single in January 1982. The song's engaging narrative of love gone wrong, augmented by an element of sleaze and cruelty was perfectly in sync with Soft Cell's style. The colourful promo video, featuring a stylised torch song club, helped sell the bittersweet image. Consequently, the single reached No.3 on the UK Singles Chart.
Here, Blitzed gives you ten facts about 'Say Hello, Wave Goodbye' exploring the song's enduring legacy…
1. Home Is Where The Heart Is
As with many of the songs that appear on Non-Stop Erotic Cabaret, 'Say Hello, Wave Goodbye' had been written in a rundown Leeds house that Marc Almond and Dave Ball lived in at the time. It was also home to Anni Hogan, 'Tainted Love' sleeve designer Kris Neate and Cyrus Bruton (Dance Chapter). It was "constantly filthy" according to Marc Almond and at one point the house was overrun with mice!
2. Pink Neon And Tears
In his book Tainted Life, Marc Almond succinctly described 'Say Hello, Wave Goodbye' as "A ballad about a prostitute rejected by a lover who thinks he's too good for her, the song's atmosphere drenched in pink neon and tears."
3. Brass Effect
Dave Tofani's clarinet work on the B-side instrumental still sounds breath-taking today. His involvement on the Non-Stop Erotic Cabaret album had come about via his friendship with producer Mike Thorne. Tofani's prestigious musical career saw him working with artists such as Frankie Valli, Gloria Gaynor, Chaka Khan, Aretha Franklin and John Lennon & Yoko Ono among others.
4. Wrestling The Remix
The 12″ extended version produced some problems, as Dave Ball outlined in his book Electronic Boy: "We'd recorded and mixed the song with vocals for both the album and the A-side of the seven-inch single. An additional instrumental version was recorded in New York, featuring Dave Tofani on clarinet, for the seven-inch B-side. The problem was combining the two versions for the twelve-inch single, as each had been mixed on separate occasions. Mike Thorne had to bolt the differing vocal and instrumental versions together in a sort of 'Frankenstein edit'. I think we got away with it because all the splices were so obvious they sounded intentional."
5. Feather Style
The video featured a set designed by Huw Feather, with costumes designed by his partner Liz Pugh. Feather (who also appears in the video as the club host) had been responsible for the padded cell set design for Soft Cell's early live shows. His illustration work was also a strong element on Soft Cell's sleeves, including, of course, the striking cover for 'Say Hello, Wave Goodbye'.
6. Pope Pop Go
Tim Pope had been engaged to produce a video companion piece to Soft Cell's debut album, titled Non-Stop Exotic Video Show. As a result, Pope did the original promo video for 'Tainted Love' as well as kitchen sink drama 'Bedsitter' and the dive bar chic of 'Say 'Hello, Wave Goodbye'. Pope later went on to a successful career, which included producing videos for the likes of The Cure, Bronski Beat, China Crisis, Siouxsie and the Banshees, Strawberry Switchblade and The The among others.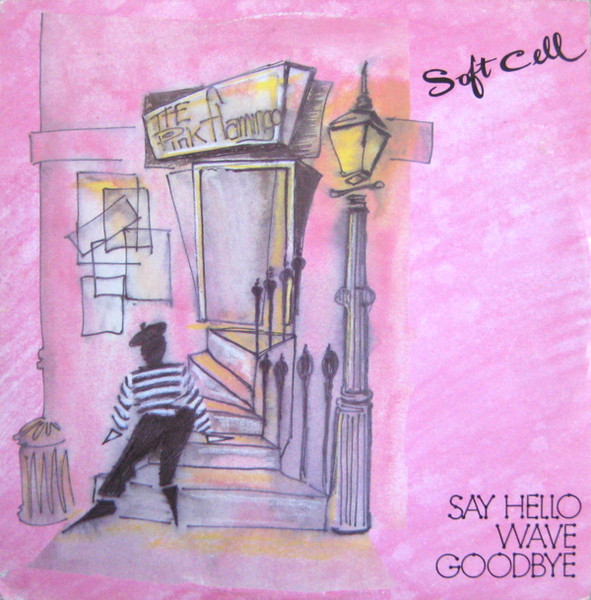 7. Daly Delight
The 'Say Hello, Wave Goodbye' promo video also features actress, film producer and writer Eileen Daly who had previously appeared in the video for 'Tainted Love'. Daly went on to appear in the likes of Our Friends in the North and EastEnders. She also dabbled in music, forming the band Jezebel in 1998, described by Daly as "an eclectic mix of rock, Goth and perverse fairy tales".
8. Fun City
12″ B-side track 'Fun City' originally started out as "an idea for a song about a rent boy for one of Marc's performances" according to Dave Ball. It also featured on Marc And The Mambas's first 12" single.
9. Cover Versions
The song was covered by David Gray and featured on his successful 1998 album White Ladder. Gray's version reached No. 26 on the UK Singles Chart and features additional lines at the end from the Van Morrison songs 'Madame George' and 'Into the Mystic'.
Other acts who have covered the song include Japanese duo Salon Music and electropop outfit Sparks, who collaborated on the song for Salon Music's 1988 album O Boy. Nouvelle Vague also covered the song on their 2009 album 3. In 2010, a-ha performed a live version for the Ken Bruce show on Radio 2.
10. Into The 1990s
The song was later re-recorded and released in 1991 as 'Say Hello, Wave Goodbye '91'. Marc Almond had been unsure about the quality of his singing on early Soft Cell songs, so the opportunity to re-do the vocals and polish 'Say Hello, Wave Goodbye' seemed shrewd at the time. But he later recanted, describing the idea as "complete folly". In Almond's book Tainted Life, he remarks: "The sound of the voice, I now understand, was for better or worse synonymous with the song; it was the song, and people wanted the original , bad notes and all."