SOFT CELL – Non-Stop Erotic Cabaret
1981 will always serve as a year of particular good fortune when it comes to music, serving up some of the most iconic albums of the decade. This was the year that saw the release of Depeche Mode's Speak & Spell, OMD's Architecture & Morality, The Human League's Dare and Heaven 17's Penthouse and Pavement.
But even before the year was out, another album arrived which would become a classic synth-pop release. Soft Cell's Non-Stop Erotic Cabaret managed to combine a dark, seedy nature with aspects of mundane kitchen sink drama. At the same time, there's a vibrant, modern sound driving the songs along; erotic electropop for the masses.
When Marc Almond and Dave Ball ran into each other at Leeds Polytechnic back in 1977, It was the catalyst for a partnership that would not only give them a No. 1 single, but would launch a musical career that would propel them across four decades. Inspired by an eclectic selection of music which included Throbbing Gristle, Suicide, Human League and Devo as well as a penchant for Northern Soul, Soft Cell crafted their own unique sound.
Marc Almond had a love of exuberance and performance art, while Dave Ball was more reserved, more technically minded when it came to music. That combination of talents provided a complimentary quality; a chemistry that was vital to honing Soft Cell's particular brand of electropop.
Soft Cell's earliest efforts were, as Almond once described them, "suburban pocket operas" that painted lyrical narratives about the mundanity of modern living, "We tried to combine the upbeat and the melancholy". Much of these early compositions were hammered out in sessions at Dave Ball's bedroom or in Leeds Poly's music room.
The soap opera aesthetic of much of Soft Cell's songs were drawn from many sources, This includes Almond's experiences working in the Leeds club scene, but also from the world of cinema. "I'd watched a lot of kitchen sink dramas from the 1960s and art films from the 1970s" commented Almond in the tour programme for the recent NEC shows, "I liked the cult films of John Waters, the trash art movies of Andy Warhol and the cheap, lurid horror of George Romero and the artier Dario Argento mysteries." Songs such as the gothic horror of 'Martin', for example, had been inspired by the George Romero cult film.
Soft Cell's fortunes were enhanced by an appearance on the 1981's Some Bizzare Album, care of 'The Girl with the Patent Leather Face. That album not only became the launching pad for music maverick Stevo and the Some Bizzare label, but also for a host of acts that would become household names in a very short period of time (including Depeche Mode and Blancmange).
Via Stevo, Soft Cell were licenced to the Phonogram label and although the duo's initial material raised some interest (particularly on the back of the pop cacophony of 'Memorabilia', which also saw Soft Cell working with Daniel Miller), the pair were not quite achieving any form of significant commercial success.
At the time, Soft Cell's live performances weaved in a variety of songs that also included northern soul covers. This included 'Tainted Love', an Ed Cobb-composed track that had originally been a B-side song for Gloria Jones in the 1960s. "Our version was stripped down, cold, with slinky electronics and just a hint of passion and yearning." As Marc Almond recalled in his book Tainted Life.
The decision to record the song also brought the duo into the orbit of producer Mike Thorne, a partnership that would prove to be very beneficial. Thorne was already an experienced musical hand, having worked with the likes of John Cale, Wire and Marianne Faithful. Despite that professional oversight, there weren't any edicts about smoothing away Soft Cell's sound and particularly Marc Almond's authentic voice. "Even though we'd try to get things as technically perfect as possible" commented Thorne, "that wasn't the top priority. The top priority, especially with his lead vocals, was the emotional intent, and he was really easy to work with. As was Dave. They were really pleasant people to be in the studio with and they were both very efficient."
In his book Electronic Boy, Dave Ball talks about the simplicity of the musical arrangements for 'Tainted Love', recorded at London's Advision studios, including the use of his "battered" Korg SB 100 Synthe-Bass (which was crucial for Soft Cell's sleazy bass synth sounds). "Marc had two Pearl Syncussion electronic drumheads and a Synare electronic drum that created 'Tainted Love's distinctive 'bink bink' sound when enhanced through Mike's DeltaLab DL-4 on a very short clangorous delay, making it more metallic."
"I also thought it would be great to have it mixed into a version of the Diana Ross & The Supremes song 'Where Did Our Love Go' as the two songs made a great couple" recalls Ball, "I adjusted their respective keys and tempo until the two tracks segued perfectly." Mike Thorne was also learning from the experience: "Soft Cell's idea for 'Tainted Love' of recording the whole extended dance track then extracting by edit the commercially all-important 7" single had become my constant method when recording any single, and would remain so until I retired from hired-gun production in 1994."
But Soft Cell were still a relatively unseasoned musical outfit and hadn't quite grasped that the single would deprive them of a lucrative payday. "Over the years, that decision to record two cover versions and not one of our own songs on the B-side" mused Ball "was to cost Marc and me about a million quid each in lost writing-credit royalty earnings."
Nevertheless, 'Tainted Love' surprised everyone by becoming a hit single, reaching No. 1 in the UK charts and landing Soft Cell on Top Of The Pops. In retrospect, it's hardly difficult to see why. The song manages to tap into a brooding well of emotional turmoil (the essence of many a good love song) while also employing a quirky, yet accessible series of synth hooks.
The success of 'Tainted Love' was naturally followed by the desire to produce an entire album, something record label Phonogram were only too happy for the duo to purse. Along with Mike Thorne, they decamped to Mediasound studio in New York (apparently skirting visa requirements, hence the "Camden Cell, London" credit on the sleeve).
Adopting the title Non-Stop Erotic Cabaret, inspired by a neon sign in Soho, the album was already wearing its themes on its sleeve. "Most eighties bands were singing about boy meets girl and boy loses girl, or else girl boy meets girl and lives happily ever after" Marc Almond wryly observes in Tainted Life, "We were singing about boy meets girl and lures her into a life of drugs and prostitution."
The New York trip was an eye-opener for both Marc Almond and Dave Ball, introducing them to a different world of glamour and celebrity. "It was all a big adventure" remarked Ball during the album's Twitter Listening Party, "Highlights were meeting Divine and Madonna in Danceteria then meeting Andy Warhol at The Factory". It was during the partying adventures that the duo first met Cindy Ecstasy, who would later adopt the role of muse for Soft Cell (and who also appears on 1982 single 'Torch').
In the studio, Dave Ball's synth arsenal was expanded by the inclusion of Mike Thorne's Synclavier II and a Roland TR 808 Rhythm Composer. He still had his trusty Korg however, to ensure that the seedier, unique Soft Cell sound was present and correct. To lend proceedings a sense of familiarity, two fellow Leeds friends were also invited out to handle backing vocal duties. Josie Warden and Brain Moss, aka Vicious Pink Phenomena, would later find their own slice of fame care of 1984 cult hit 'Ccccan't You See'.
By this point, Soft Cell had accumulated a large number of potential compositions which had to be honed down to form an album. Some of the songs seemed custom-built for Soft Cell's dry commentary on life, including the perky 'Frustration', "a song about Mr Ordinary in suburbia and his fantasises" according to Almond (apparently the lyrics were originally penned by Dave Ball and inspired by his Dad!). Plus, the wistful if bleak 'Youth', about the inevitable onset of age and lost innocence.
"We wanted the album to be a peep-show of sounds" mused Almond in Tainted Love, "a glimpse into a seedy world, a soundtrack to a striptease clip joint, a well-thumbed diary of glimpses through a red-lit doorway." The album succeeds on fulfilling that mission statement, particularly on the downbeat 'Seedy Films' and the swingbeat quirkiness of 'Secret Life'.
That aspect is particularly vivid on compositions such as 'Say Hello, Wave Goodbye', which captured the angsty melodrama of a relationship in which Almond's evocative lyrics were reflected by Dave Tofani's mournful clarinet fills on the B-side instrumental version. Almond later described the song's atmosphere as being "drenched in pink neon and tears."
Then there's 'Sex Dwarf', a song which transparently dives into a world of sleaze and bondage ("Isn't it nice/Sugar and spice/Luring disco dollies to a life of vice") directly influenced by an actual News Of The World headline. "How could we resist making a mutant disco track based on that?" remarked Dave Ball.
'Sex Dwarf' would later lead to the duo drawing the ire of (what was then) a very conservative culture due to the video shot for the song. As part of an extended video documentary (Soft Cell's Non-Stop Exotic Video Show), the band had invested some significant money into a project to capture a visual version of the songs from the album. The imagery used on 'Sex Dwarf' seems fairly tame by today's standards ("I had a chainsaw and wore a rubber butcher's apron whilst Marc and the dwarf wore black fetish wear" remarked Ball in his book). But the police staged a raid on the Some Bizarre office as a result and WH Smith refused to stock the video unless the offending segment was excised. "Bootleg copies were reputedly changing hands in Soho for £30 each" reflects Ball.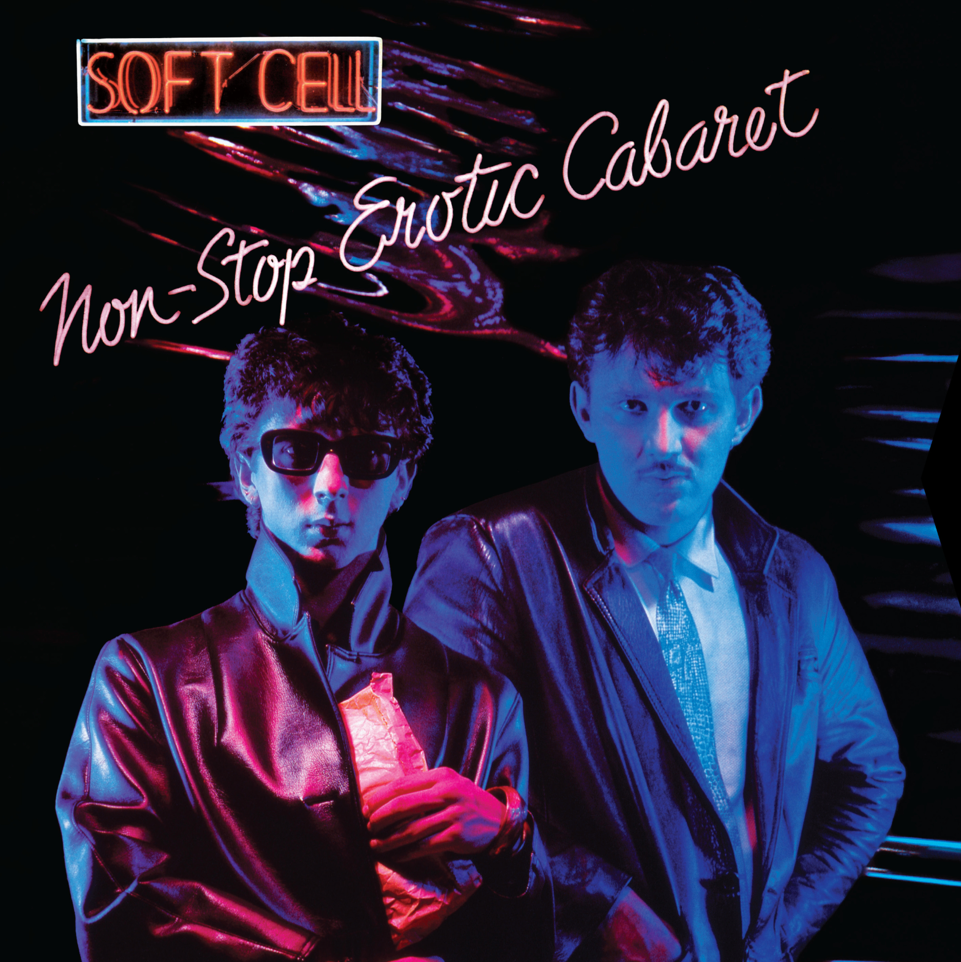 But outside all of the vice squad antics, the new album also had to serve up a suitable successor to the phenomenal 'Tainted Love'. Drawing from his experiences of the mundane, Marc Almond hadn't struggled to come up with inspiration when he'd first penned the words to 'Bedsitter' back in Leeds ("Watch the mirror count the lines/The battle scars of all the good times"). The bleakness of the lyrics were contrasted by the song's peppy synth hooks.
The recording of 'Bedsitter' in New York was a swift affair, despite the basic methods that Dave Ball employed to get the music down. This included playing some the keyboard elements by hand in a pre-sequencer environment. "I always thought of myself as a one-man electronic punk band" reflected Ball, "- synths instead of guitars – one note instead of three chords."
Despite some record label reservations, 'Bedsitter' was eventually released as the album's second single and managed a respectable No. 4 in the UK charts. "The track didn't have the universal appeal of 'Tainted Love'" suggests Ball "because the subject matter was so English. Most people outside the UK wouldn't know what a bedsit was."
The album's distinctive sleeve photo by Peter Ashworth captures a suitably dark and seedy sheen. "At the last minute in the photo session I picked up a copy of Vogue, wrapped it in a brown-paper bag as if it were porn I was trying to conceal" remarked Almond in his book "and drew it surreptitiously from my jacket for a touch of sleaze. In fact both Dave and I preferred another photo, in which I am exposing my shoulder while a psychotic-looking Dave is about to plunge a switchblade into me."
On its release, Non-Stop Erotic Cabaret picked up mixed reviews. The NME suggested that the album featured "unspectacular music and very drab and flat lyrics" while Melody Maker's review was more scathing: "Cabaret is the brashest, most brilliant and least-caring indictment of pop music's bankruptcy I've ever heard."
Smash Hits was more favourable, highlighting "strong, imaginative songs confidently performed with a definite sense of theatre (and of humour!)" and concluding that it was an "excellent debut."
Reviews aside, nothing stopped Non-Stop Erotic Cabaret's successful chart run, landing a No. 5 position in the UK charts and establishing Soft Cell as a pop act whose time had come. The album's success was reflected in its singles, which have since become signature tunes of the classic synth-pop era (and were subsequently followed by two equally excellent post-Non-Stop Erotic Cabaret singles 'Torch' and 'What').
The album's legacy had an impact in all the right places. Pet Shop Boys singer Neil Tennant recalled, "When Chris Lowe and I first met in 1981 there were two electro-pop singles we both loved: 'Bedsitter' by Soft Cell and 'Souvenir' by OMD." Trent Reznor reflects on the album as a record that transported him to an "exotic foreign land." "Non-Stop Erotic Cabaret sounds no less futuristically sleazy, all these years later. That's quite some achievement" suggested Tim Burgess. The album also features in the book 1001 Albums You Must Hear Before You Die.
Non-Stop Erotic Cabaret's legacy was also cemented by the successful 2021 live show, which saw Soft Cell performing the album in its entirety for enthusiastic crowds.
"It was a record that pushed us into a corporate world that we were totally at odds with" suggested Marc Almond in the 40th Anniversary tour programme, concluding however that "it gave us a mystique that allowed us to be both a cult band and a commercial pop entity."
---
Non-Stop Erotic Cabaret is being reissued on 1st December 2023 with various supplementary extras and rarities. The 6-CD, 98-track Super Deluxe Edition is the ultimate version of the album and features 40 unreleased pieces.

This includes the original album newly remastered in 2023 by Barry Grint, plus the A & B sides in their original 7" versions, including 'Torch', 'What!', the band's first Phonogram single 'A Man Could Get Lost' & 'Memorabilia'.

Non-Stop Extended Cabaret contains the entire album in extended 12" form, made up of Dave Ball's 2018 studio reworkings of the album using only the original studio parts, plus the original 'Bedsitter' 12" . Also featured are new remixes of 'Memorabilia' by techno legend The Hacker, Mute founder Daniel Miller and a new Dave Ball extended of 'A Man Could Get Lost'.

The Deluxe Edition also includes a disc featuring a treasure trove of rarities, including BBC session highlights, a selection of demos, outtakes, audio from BBC TV and radio appearances on The Richard Skinner Show, The Old Grey Whistle Test, Top Of The Pops and more.  There's also live recordings taken at Hammersmith's Eventim Apollo in November 2021 as well three tracks from the band's jubilant London O2 Arena show in September 2018.

Non-Stop Erotic Cabaret Super Deluxe Edition is released 1st December via Mercury-EMI / UMR. Order via:
https://www.softcell.co.uk
---
This feature originally appeared on The Electricity Club.