SOFT CELL 'NON-STOP EROTIC CABARET' 6-CD 98-TRACK SUPER DELUXE EDITION
Initially released in November 1981, Soft Cell's classic album Non-Stop Erotic Cabaret, in the words of Marc Almond, "Tells a story of a bored ordinary bloke seething with his life wanting more and looking for excitement and adventure in a red neon lit Soho world of red-light cabarets, prostitutes and sex dwarves, looking back at his youth and wondering what happened." The album contained three of the most significant singles of the decade; 'Tainted Love' (the best-selling UK single of 1981), 'Bedsitter' and 'Say Hello Wave Goodbye'. Dave Ball recalls making the album as "All very weird and extreme, from living in a council flat and suddenly you're flying on Concorde to New York" Looking back, Ball says "Non-Stop Erotic Cabaret was the first period of Soft Cell, really. It was our pop period, and by 1982 we were done and dusted with that. The next one, was much darker."
Now Mercury-EMI / UMR are releasing a deluxe edition of Non-Stop Erotic Cabaret with various supplementary extras and rarities. This 6-CD, 98-track edition is the ultimate version of the album and features 40 unreleased pieces.
CD1 features Non-Stop Erotic Cabaret newly remastered in 2023 by Barry Grint, plus the A & B sides in their original 7" versions, including 'Torch', 'What!', the band's first Phonogram single 'A Man Could Get Lost' & 'Memorabilia' which was produced by Mute's Daniel Miller along with the 2016 edit of 'Fun City' and a new edit of 'Persuasion', both only released on 12" at the time.
CD2 Non-Stop Extended Cabaret contains the entire album in extended 12" form, made up of Dave Ball's 2018 studio reworkings of the album using only the original studio parts, plus the original 'Bedsitter' 12" which all parties agreed just could not be improved upon. Also featured are new remixes of 'Memorabilia' by techno legend The Hacker, Mute founder Daniel Miller and a new Dave Ball extended of 'A Man Could Get Lost'.
CD3 entitled Non-Stop Eclectic Cabaret is a treasure trove of rarities including BBC session highlights, a selection of demos, outtakes, audio from BBC TV and radio appearances on The Richard Skinner Show, The Old Grey Whistle Test, Top Of The Pops / Top Of The Pops 2 and The Oxford Road Show as well as selections from Heat: The Remixes, including Richard X's now legendary version of 'Seedy Films'.
CD4 is Non-Stop Instrumental Cabaret, which presents the full album instrumentally for the first time and six original 1981 demos, five of which are previously unreleased. These demos include a Daniel Miller produced version of 'Tainted Love', 'Say Hello, Wave Goodbye' and a version of 'Sex Dwarf' which was previously presumed wiped.
CD5 brings together the original 12" A and B-sides of 1981 & 1982 under the banner Non-Stop Original Cabaret including 'Memorabilia', 'Tainted Love', 'Say Hello Wave Goodbye', and the standalone singles 'Torch' and 'What!'. Soft Cell were rightly hailed in their day for pouring their creative efforts and energies into the extended form and these pioneering sides have become legendary.
CD6 includes the album played in full plus, 'Torch' and 'Memorabilia', recorded live at Hammersmith's Eventim Apollo in November 2021. There are also three tracks from the band's jubilant London O2 Arena show in September 2018.
Also included in the beautiful 10" x 10" package is an essay on the story of the album by Adrian Thrills, including new interviews with Marc and Dave as well as full song lyrics, contemporary photography along, album and single sleeve scans and compiler's credits from Chris Smith.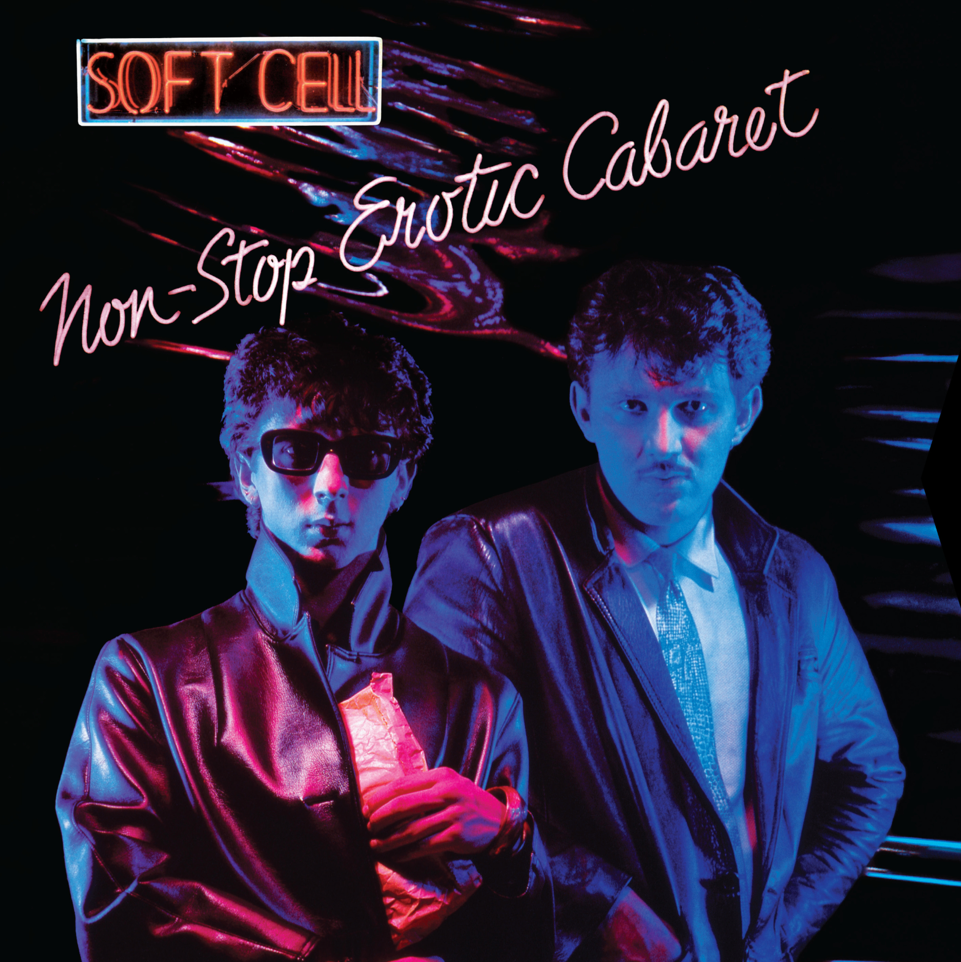 CD1: Non-Stop Erotic Cabaret: 2023 Remaster + Singles, B-Sides & Edits
Frustration 04:12
Tainted Love 02:35
Seedy Films 05:05
Youth 03:21
Sex Dwarf 05:47
Entertain Me 03:00
Chips On My Shoulder 04:06
Bedsitter 03:36
Secret Life 03:37
Say Hello, Wave Goodbye 05:34
Memorabilia (Single Version) 04:49
A Man Could Get Lost (Single Version) 03:17
Persuasion (Edit of 12" Single B-Side) 03:36 *
Where Did Our Love Go? (Single B-Side) 03:14
Facility Girls (Single B-Side) 02:23
Fun City (Edit of 12" Single B-Side) 04:24
Torch (Single Version) 04:08
Insecure Me (Single B-Side) 04:40
What! (Single Version) 02:51
…So (Single B-Side) 03:49
CD2: Non-Stop Extended Cabaret: Full-Length Versions & New Remixes
Frustration (Extended Version) 06:02 *
Tainted Love (2021 10″ Extended Version) 05:05
Seedy Films (2023 Extended Version) 05:16 *
Youth (2018 'Wasted On The Young' Extended Version) 05:41
Sex Dwarf (2023 Extended Version) 05:45 *
Entertain Me (2023 Extended Version) 06:05 *
Chips On My Shoulder (2018 Extended Version) 06:16
Bedsitter (1981 Original 12" Mix) 07:52
Secret Life (2018 Extended Version) 05:20
Say Hello, Wave Goodbye (2018 Dave Ball 'Lateral Mix') 07:07
A Man Could Get Lost (2023 Extended Version) 05:08 *
Memorabilia (Daniel Miller 2023 Remix) 05:16
Memorabilia (The Hacker 2023 Remix) 06:37
CD3: Non-Stop Exotic Cabaret: Curios, Rarities, Sessions & Alternate Mixes
Frustration (Original 'Mutant Moments' Version) 03:32
Tainted Love (New 2023 Version) 03:01 *
Seedy Films (Richard X Remix) 05:20
Youth (Dave Ball 'Warhol Funeral' Mix) 03:05 *
Sex Dwarf (Live On BBC 'Old Grey Whistle Test' 4th February 1982) 05:16
Entertain Me (Richard Skinner Session, Radio 1, 26th July 1981) 03:45
Chips On My Shoulder (Live From 'The Oxford Road Show' 22nd January 1982) 03:28 *
Bedsitter ((Richard Skinner Session, Radio 1, 26th July 1981) 03:34
Secret Life (George Demure Remix) 05:10
Say Hello, Wave Goodbye (Live From 'The Oxford Road Show' 22nd January 1982) 04:33 *
A Man Could Get Lost (Live at Leeds Warehouse, 16th July 2018) 03:30 *
Torch (Live from 'Top Of The Pops 2', 28th January 2002) 04:05 *
Tainted Love/Where Did Our Love Go (US Radio Edit) 04:01 *
Seedy Films (Richard Skinner Session, Radio 1, 26th July 1981) 03:58
Youth (Live On BBC 'Old Grey Whistle Test' 4th February 1982) 03:15 *
Chips On My Shoulder (Richard Skinner Session, Radio 1, 26th July 1981) 04:20
Tainted Love (Live from 'Top Of The Pops' 1981 Reunion, 2001) 03:14 *
Bedsitter ('Flexipop' Version) 03:45 *
Memorabilia (2023 Dub Mix) 5:44 *
Tainted Love (Aborted 1981 Studio Take) 1:07 *
CD4: Non-Stop Instrumental Cabaret: Instrumentals & Bonus Demos
Frustration (Instrumental) 04:15 *
Tainted Love (Instrumental) 03:01 *
Seedy Films (Instrumental) 05:10 *
Youth (Instrumental) 03:25 *
Sex Dwarf (Instrumental) 05:15 *
Entertain Me (Instrumental) 02:57 *
Chips On My Shoulder (Instrumental) 04:09 *
Bedsitter (Instrumental) 03:39 *
Secret Life (Instrumental) 04:03 *
Say Hello, Wave Goodbye (Single B-Side Instrumental) 03:54
A Man Could Get Lost (Original Daniel Miller Instrumental Version) 03:30 *
Torch (Instrumental) 04:12 *
What! (Instrumental) 03:11 *
Insecure Me (Instrumental) 03:12 *
Tainted Love (Original 1981 Daniel Miller Demo) 02:47
Seedy Films (Original 1981 Demo) 04:02 *
Sex Dwarf (Original 1981 Demo) 06:53 *
Chips On My Shoulder (Original Demo) 03:50 *
Secret Life (Original 1981 Demo) 03:39 *
Say Hello, Wave Goodbye (Original 1981 Demo) 04:39 *
CD5: Non-Stop Original Cabaret: The 1981 / 1982 12" Mixes & B Sides
Tainted Love/Where Did Our Love Go? (Original 12″ Version) 08:57
Memorabilia (Original 12″ Version) 07:47
Torch (Original 12″ Version) 08:28
What! (Original 12″ Version) 06:09
Tainted Dub (Original Version) 09:14
Persuasion (Original 12″ Version) 07:35
Facility Girls (Original 12″ Version) 07:16
Fun City (Original Version) 07:33
Insecure Me (Original 12″ Version) 08:16
…So (Original 12″ Version) 08:29
CD6: Non-Stop Intimate Cabaret: Live In Concert, London 2021 & 2018
Frustration (Live at Eventim Apollo London, November 2021)
Tainted Love (Live at Eventim Apollo London, November 2021)
Seedy Films (Live at Eventim Apollo London, November 2021)
Youth (Live at Eventim Apollo London, November 2021)
Sex Dwarf (Live at Eventim Apollo London, November 2021)
Entertain Me (Live at Eventim Apollo London, November 2021)
Chips On My Shoulder (Live at Eventim Apollo London, November 2021)
Bedsitter (Live at Eventim Apollo London, November 2021)
Secret Life (Live at Eventim Apollo London, November 2021)
Say Hello, Wave Goodbye (Live at Eventim Apollo London, November 2021)
Torch (Live at Eventim Apollo London, November 2021)
Memorabilia (Live at Eventim Apollo London, November 2021)
Insecure Me (Live at 02 Arena London, 30 September 2018
What! (Live at 02 Arena London, 30 September 2018
Tainted Love/Where Did Our Love Go? (Live at 02 Arena London, 30 September 2018
---
Non-Stop Erotic Cabaret 6-CD 98-Track Super Deluxe Edition
Also available as 2-LP Expanded Black Vinyl & Limited Edition D2C 2-LP Yellow/Blue Vinyl

Released 20 October via Mercury-EMI/UMR
Available For Pre-Order Now: Https://Softcell.Lnk.To/Nonstop